Common Dove Photography was named in memory of a little 95 year old woman who came from a farm in Pennsylvania.
She cared for her family passionately.
She built a life that touched so many.
She had a wild love story.
She was my Grandmother.
Before she passed away and as dementia set in, I would visit her in the nursing home and write. I came across my journals this week and decided that every now and then I would share a little story.  After all, she's the soul behind it all.
I think about her every day. I miss her so.
"Oh Sally"
12/28/09
Granny sat alone in the room today. She looked cold. 
Her mouth was wide open but I heard nothing. I wished I could crawl into bed with her, hold her frail hand and ask  about Grandpa one more time. Instead, I sat in the uncomfortable rose colored chair and rested my head on the cold metal bar that caged her in.
I closed my eyes.
I imagined a young Atillio, large hands, thick Italian hair and a deep voice, harsh from the heavy breaths of his labor. I remembered how they met. How he offered her a ride to school in a horse drawn cart. She must have been so nervous. She must have had trouble looking right at him. I bet she smiled so much.
I looked at her now. This was her longest journey-getting back to him. I wondered what he saw if he looked down on her now…probably a 17 year old girl in a pale blue dress and simple shoes. Probably the most beautiful woman he had ever seen…and she was dying.  I felt hot tears and reminded myself that this was just another beginning. She missed him. This is what she wanted.
Granny began to chant as her hand searched for her mouth.
"Oh.  Ohhhh……"
"I'm here, Granny."
"Oh I neeeed him..Oh I… me…him…. Oh hear me, Sally… I neeeee…him…."
"Granny, it's Jessica."
"Oh Sally…..Ohhh Sally. Oh Sa…oh Sally…"
I put my head back on the metal bar.
I'd be Sally if she needed me to be.
From the hallway I heard a nurse yell,
"MR. CHERRY!"
I smiled.
Mr. Cherry was always getting into trouble.   Leave it to him to bring some comic relief. Whoever he was, I wanted to hug him. At least once a visit I heard the same wail come through the door.
I looked at her wrinkled face. She had a no questions kind of love.  A love that was just there for you. A gift that needed absolutely nothing in return. She just knew you needed it and left it there for you to take. I wanted to know her Jesus. Only someone who truly knew God could give love like that. I wished she knew that my heart overflowed when I looked at her crusted closed eyes. I wanted to crawl inside of her body and soak up her strength. I wanted to tell her that so much of me was her. I had her weird hair, I had her skin & I prayed that I had her heart. She had always been grounding, she was a steady flow of unconditional love that ran through my whole life. I wanted to tell her that….
But right now, she had no idea who I was.
Right now, I was Sally and she needed to hold Sally's hand.
Tonight I'd be Sally if she needed me to be.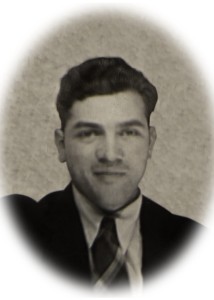 //The above picture is my Grandfather, Atillio Carpenetti. This picture sat in a frame by my grandmother's bed. It is a scan of a photo-booth picture taken in CA when he when there to work picking artichokes on the farm owned by his sister Bea's husband Al Benvenuto//1940//